Proud to be part of the Space Coast!
5/26/2020 (Permalink)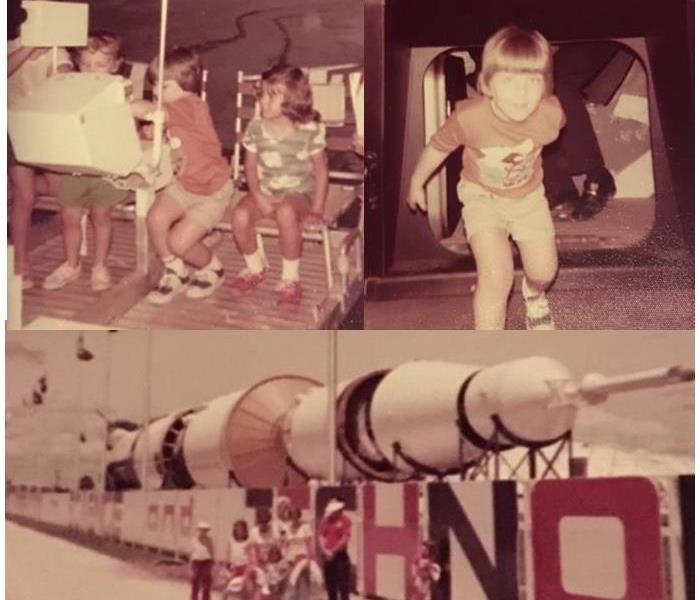 I have lived almost all my life here on the Space Coast and I can't think of a better place to raise a family than Brevard County. I was very young in the '70s, so I don't remember much about the Apollo missions, but I do remember the beginning of the Space Shuttle program in the latter part of the decade. I remember when they showed the world the Enterprise, and I remember the star-studded Star Trek cast in attendance. In 1976 NASA and KSC hosted the Bicentennial Exposition and visitors were allowed inside the Vehicle Assembly Building to view several exciting new exhibits. I was lucky enough to able to attend that event and I have included a few pictures here from that unforgettable day. They include me flipping switches in a mock-up lunar rover, exiting the Apollo crew capsule, and my family standing in front of a Saturn 5 rocket that is now inside the current Saturn 5 exhibit at the Kennedy Space Center Visitors Center.
Growing up here I have had the incredible opportunity to witness history in the making and I have often felt like I was part of that history. I have seen the awesome spectacle of lift off and the triumphant return of our American Heroes. I have also witnessed the tragedy of the inherent risks that are involved with space travel. I will never forget watching the lift off and explosion of the Challenger Shuttle out the window of my pre-algebra class at Edgewood Jr. High. The fear and heartbreak of that tragedy lives on in our collective memory and in our hearts.
Now we sit on the cusp of history once again. It has been almost a decade since the Space Shuttle program ended and at last American astronauts will again brave the dangers and set a course for outer space. But for the first time they will be aboard a private spacecraft. This is an exciting time.
I am grateful that the company I work for, SERVPRO of Central Brevard, has been able to support our space industry by providing many necessary services to buildings on KSC property, Cape Canaveral Air Force Station, and Patrick Air Force Base. This work has afforded me the opportunity to see amazing things from our space exploration program and meet some of the extraordinary people that make it happen. I have even been able to touch something that was in outer space! I can't speak specifically of these jobs, but it has been an honor to be involved with them.
So, as America counts down to May 27th, and millions of people eagerly anticipate the thrill of lift off, know that I will be cheering them on and am excited to be part of history yet again.
Godspeed Falcon 9 and Crew Dragon, SERVPRO of Central Brevard is behind you!!!
Steve Kinder, Business Development Manager